The 2023 Speaking Industry Benchmark Report
The Speaking Industry Benchmark Report produced by AAE Speakers Bureau is a compilation of data from both event organizers and keynote speakers with the goal of bringing transparency and efficiency to the speaker booking process.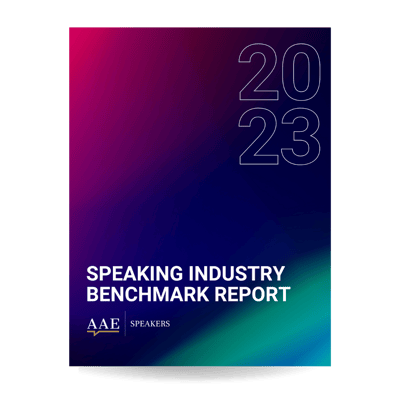 Whether you work with a speakers bureau or hire directly, the information in the report is a valuable first step before negotiating your next event's speaking engagement.
Highlights
81.25% of event organizers said they are

concerned about the impact of economic uncertainty

on their 2023 event plans.
The three things that make speakers most likely to accept an offer are whether the event

pays their ideal fee

(62.76%), whether the topic is relevant to their expertise (61.38%), and whether the event or organization aligns with their values (41.38%).
The most important goals event organizers have for their booked speakers are audience engagement (

69.57%

), education for the audience (51.63%), and increased attendance (41.03%).
Yes! Please show me the data.
About AAE Speakers Bureau
All American Entertainment (AAE) Speakers Bureau is a full-service speakers bureau and talent agency that exclusively represents the interests of meeting and event professionals to select, book, and execute events with keynote speakers and entertainment to leave a lasting impact on their audiences. We work tirelessly for event professionals as their centralized, trusted, and impartial partner in the talent booking process.
With our expansive industry experience and exceptional customer support, AAE has connected more than 10,000 events around the world with their perfect speaker, host, celebrity, or performer since 2002. We have booked over $300M of celebrity talent on behalf of thousands of the most respected companies and organizations in the world.
AAE proudly serves Fortune 500 companies, PR & advertising agencies, associations, non-profit organizations, colleges, and universities.