Planning for the Safe Return to In-Person Events
As event professionals transition to both hybrid and in-person events in a post-pandemic environment, safety is at the forefront of the discussion. We've created this NEW Event Planner Guidebook to help guide your decisions and implement best practices to ensure the safety of your event participants, speakers, and staff.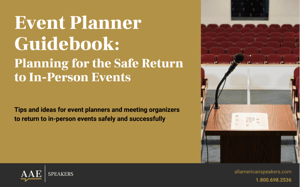 In this guidebook you'll learn:

Advice based on the latest CDC guidelines along with AAE's decades of experience in event planning
Tips for creating a comprehensive and cohesive game plan for your team that ensures you're prepared for every stage of your event—before, during, and after
Insights on how to deal with last-minute challenges like staff absences or on-site illnesses
Bonus ideas that go beyond simply meeting safety guidelines, allowing you to take your event to the next level

Before you plan your next in-person event, get up to speed on the best practices that event organizers are using to minimize risk and hold safe events.
About AAE Speakers Bureau
All American Entertainment (AAE) Speakers Bureau is a full-service speakers bureau and talent agency that exclusively represents the interests of meeting and event professionals to select, book, and execute events with keynote speakers and entertainment to leave a lasting impact on their audiences. We work tirelessly for event professionals as their centralized, trusted, and impartial partner in the talent booking process.
With our expansive industry experience and exceptional customer support, AAE has connected more than 10,000 events around the world with their perfect speaker, host, celebrity, or performer since 2002. We have booked over $300M of celebrity talent on behalf of thousands of the most respected companies and organizations in the world.
AAE proudly serves Fortune 500 companies, PR & advertising agencies, associations, non-profit organizations, colleges, and universities.