Digital Marketing For Today's Event Professional
For event planners and professionals today, marketing your event can be a headache. Gone are the days of posting flyers on billboards or relying on word of mouth to garner a wide audience. Now, digital marketing leads the way in terms of getting the news of your conference or event out to the masses.
There are numerous tools and platforms dedicated to taking your event from an idea to a sold-out reality; the challenge is knowing how to utilize their capabilities and differentiating yourself from your competition.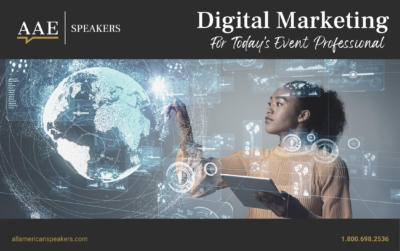 Throughout this eBook, brought to you by AAE Speakers Bureau, event professionals will get an in-depth view into four main strategies that can help you strengthen your marketing impact, as well as attract, satisfy, and retain customers and event attendees. "Digital Marketing for Today's Event Professional" aims to provide new-world tactics to help you produce the best event possible for your ideal, target audience.
Download your copy, dive into the insights, and create more digital visibility for your next event.
About AAE Speakers Bureau
All American Entertainment (AAE) Speakers Bureau is a full-service speakers bureau and talent agency that exclusively represents the interests of meeting and event professionals to select, book, and execute events with keynote speakers and entertainment to leave a lasting impact on their audiences. We work tirelessly for event professionals as their centralized, trusted, and impartial partner in the talent booking process.
With our expansive industry experience and exceptional customer support, AAE has connected more than 10,000 events around the world with their perfect speaker, host, celebrity, or performer since 2002. We have booked over $300M of celebrity talent on behalf of thousands of the most respected companies and organizations in the world.
AAE proudly serves Fortune 500 companies, PR & advertising agencies, associations, non-profit organizations, colleges, and universities.